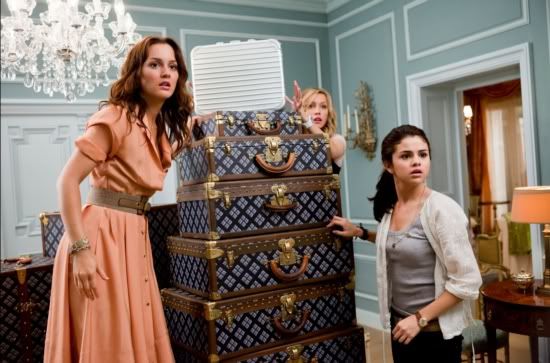 Grace (Selena Gomez) has dreamed of seeing Paris ever since she was a child. Finally, after years of saving – and after graduating high school – she heads off to see the world, with her best friend Meg (Leighton Meester) and stepsister Emma (Katie Cassidy) in tow. When in Paris, the girls realise that Grace is a dead ringer for socialite Cordelia Winthropp-Scott (also Selena Gomez), they decide Grace should take her place on a trip to Monte Carlo.
Monte Carlo is very loosely based on Jules Bass's novel Headhunters, the rights for which were bought three years before the book was published. Originally, the story was about four middle-aged Texan women who pretend to be wealthy heiresses while on the hunt for rich husbands in Monte Carlo. Since then, the screenplay has gone through many incarnations, Nicole Kidman signed on and left, and we are given this film starring the current Tween queen, Selena Gomez.
Monte Carlo is a formulaic Tween romantic comedy that ticks every box, but without any flair or originality. In fact, some of it is quite strange. Meg, a college student in her early 20s, is best friends with a 17 year old high schooler, but for the first half hour of the story it is not explained who she is. Grace's mum (Why Andie McDowell, why?) decides to send her off on the 'holiday of a lifetime', but her stepfather insists that Emma – her loathed stepsister – go with her. Why would you do that to a child you claim to love? The characters go through the predictable changes that protagonists need; Emma finds a man and learns to unwind, Meg realises – after dating a prince – that the man she left behind is the one she loves, and Grace confesses to impersonating a wealthy heiress with no consequences and finally gets her man as well. Oh and the film seems to have got permission to use every song from Mika's first album, and throws them in wherever it can.
Monte Carlo is filled with cliché and ideas that have been done before – a million times – and actually borders on the xenophobic with it's caricatured and over the top representations of Parisian people. But these are not the only characters to be completely exaggerated characters; each of the girls grandstands to the point of being unbearable, and while Selena Gomez gives it her best shot, when she is playing Cordelia she hams it up in a way that has to be seen to be believed.
In all, Monte Carlo is an unoriginal movie that could have done with a couple of extra rewrites and better casting; Selena Gomez looks barely old enough to be in high school, let alone out the other side. The city of Monte Carlo looks good on screen though…
Rating: 2/5