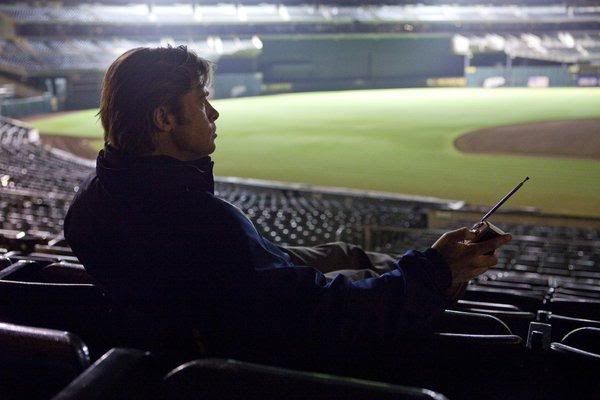 Billy Beane (Brad Pitt) is a former baseball player turned manager. His team, the Oakland A's, are failing miserably in every game, and at the end of the season his best players are bought by bigger teams. Just as Beane thinks all is lost and there is no way the Oakland A's can compete with bigger teams who have over double his budget; he is saved by economics wiz Peter Brand (Jonah Hill). Brand suggests that Beane stop looking at the obvious qualities of players and use a computer programme he designed to choose his starting team.
Last year's The Social Network proved to cinema going audiences that Aaron Sorkin – the screenwriter behind The West Wing – has got what it takes to movie from the small screen to the silver one. Moneyball is Sorkin's third screenplay and is as dramatic and dialogue heavy as we have come to expect. Pitt's brooding Billy Beane is the underdog that still has passion for the game. He is willing to try a new method for picking players, and while the team do not rise all the way to the top, the gamble pays off. Pitt's portrayal of the character is fine, but he lacks some of the passion that other actors have brought to similar roles (step forward Michael Sheen in The Damned United). While it may be true that the real life persona behind the story is not as cocky as Brian Clough, this does not necessarily make for a good leading man.
Jonah Hill makes a star turn as Peter Brand. He steps away from the teenage roles that have made him famous, tones it down and delivers an understated but passionate performance. It is always a welcome change to see an actor add another string to his bow and in Moneyball, Hill does this perfectly. Sadly, the rest of the supporting cast do not fare so well; Philip Seymour Hoffman is sadly underused, as is Robin Wright as the team coach and Beane's ex wife, respectively.
Where Moneyball flounders is the subject matter. There is no doubt that baseball has a massive draw for audiences in the US, on this side of the Atlantic, however, the game is less beloved. While the script makes a refreshing change to the underdog story and focuses on the action behind the scenes, rather than on the field, the fact remains; this is a baseball movie and we just don't love the sport in Ireland. As well as this, the finale does little to answer the question posed by the movie; can people be condensed to data effectively?
Overall, Moneyball is immediately recognisable as a Sorkin film, which may bring audiences in, but the big names are either underused or mis-directed. Hill's performance is nicely understated, but this is not enough to bring the audience in. Moneyball is not a terrible film, it is just not as good a film as we hoped.
Rating: 3/5