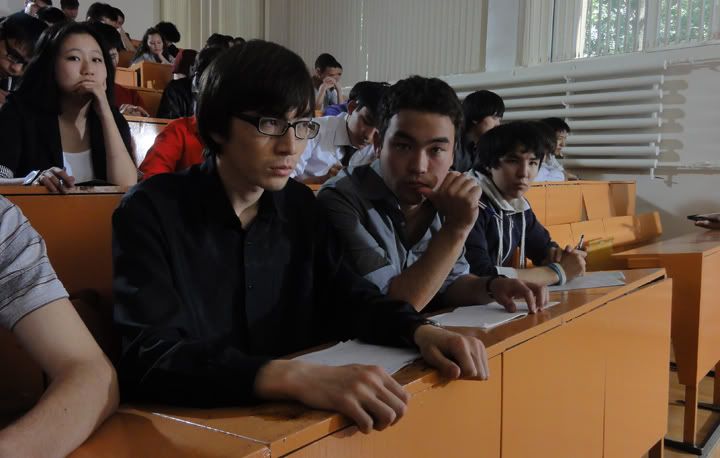 Based on Dostoevsky's classic novel Crime and Punishment, Student follows a student of Philosphy who finds himself isolated and broke. Driven to desparation by his situation – and potentially egged on by a comment made in one of his classes – the student robs a convenience store and murders the owner and another customer. Guilt consumes the student, but who can he turn to?
It is no mean feat to say that your film is based on such a revered novel as Crime and Punishment, and this statement loads the film with a layer of audience expectation. The film tries to address contemporary problems that contribute to the student's actions; capitalism – which states that the weak disappear and the strong survive – and post-modernism. The trouble with this film is that it feels incredibly uneven.
The struggle that the student goes through while trying to decide whether to rob the store or not is gainfully and engagingly explored. The audience is right there with him and empathise with him enough to hope that he will see sense and not follow through on his plan. The guilt or 'punishment' section of the film is not dealt with in the same subtle manner. The student throws himself into bed and remains there even when his family comes to visit, but there is no change in his demeanour or actions, when he does emerge, that would suggest that this man is feeling any remorse. The revelation of the crime feels almost incidental and then a love story is thrown in for good measure… What!?
The idea of moving Crime and Punishment to a contemporary setting was a clever one, but without a voiceover to make up for the monosyllabic lead character, the film lacks a binding voice to bring it all together. Director Darezhan Omirbayev has said that he wanted to make a film about youth that was not full of clichés, and while this is admirable, the film is as clichéd as any teen films that you care to mention, only this is not a glossy travelogue, it is a tale of a loner outsider who kills to see if he could do it.
In all, Student has lofty ambitions that it fails to live up to. It is clear to see what the director was trying to achieve, but tackling such a weighty tome as Crime and Punishment was always going to be problematic, and the problems are all too obvious in Student.