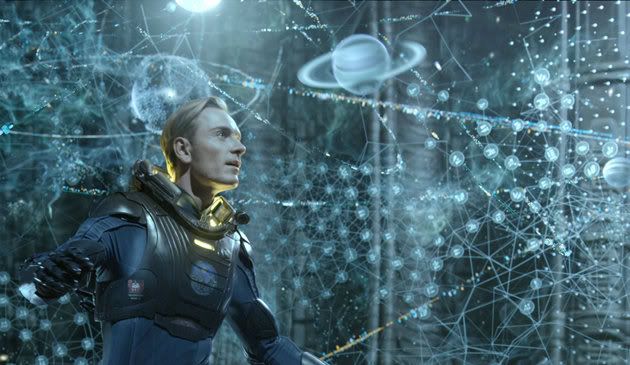 Elizabeth Shaw (Noomi Rapace) and Charlie (Logan Marshall-Green) discover cave paintings that they believe are a map to a distant planet. Desperate to discover where the human race comes from, they join a 17 strong crew on the spaceship Prometheus, and set out on a voyage funded by the sinister Weyland Industries.
There has been a lot of talk about Ridley Scott's return to sci-fi, and the good news is that the film looks fantastic. The bad news, however, is that the film feels incredibly like a prequel. Fans of the Alien movies will know this universe and the labyrinthine tunnels that the crew find themselves wandering will feel very familiar.
Noomi Rapace proves that she, like many others, was incredibly wasted in Sherlock Holmes: A Game of Shadows; she plays a tough but feminine doctor and her performance is the exact opposite of the glacial Charlize Theron. Rapace throws herself into the role, and swings from moments of great fragility and grief to those of strength and courage, and shows her versatility as an actress. This may be the first time that we have seen her be truly vulnerable, and her role in Prometheus shows that she is more than a one trick pony.
Charlize Theron, as mentioned, is cool and removed from what is going on around her. She has her own agenda and will go to extreme lengths to protect it. The other character with a hidden agenda is Michael Fassbender as David. David is – for want of a better word – a robot, but the touches of humanity that he displays belie the connection he has to his maker, and the very human desire he has to survive. Fassbender uses the simplest gestures to create David's humanity and the touch of his being obsessed with Lawrence of Arabia is just lovely. The rest of the crew are underused and are fodder for the aliens to come, which is a shame; Rafe Spall could have been used in a much more effective manner, and Guy Pearce's character should have been played by an age-appropriate actor, rather than drowning Pearce with make up.
The film suffers from a lack of light, which makes some scenes incredibly difficult to make out, but the storm and other set pieces are beautifully realised. As usual, the 3D is not needed and forms a distraction for the audience, which is a shame as there is enough story to keep the audience interested. That said, the film raises more questions than it answers and the opening sequence featuring a Titan alien is never referred to or explained. That is the case with a lot of the story, which leaves the film feeling like a prequel rather than a full movie in its own right. The issues of life, death and life after death is raised but never explored in any meaningful way, as is the idea of religion or lack thereof.
As well as this, the issues that will come back to haunt the crew are made far too obvious from the beginning, and it is easy for the audience to see which of the incredible technology will be used the most. There is plenty of ooze however, and a great scene in which Noomi Rapace does some incredibly quick thinking to save her skin.
In all, Prometheus looks good and Michael Fassbender is excellent – has he ever been bad in anything though? – but the films falls down in terms of story, a complete lack of tension and some obvious plot devices, which means that Prometheus really is an origins tale and not necessarily a movie that can stand alone.
Rating: 2/5