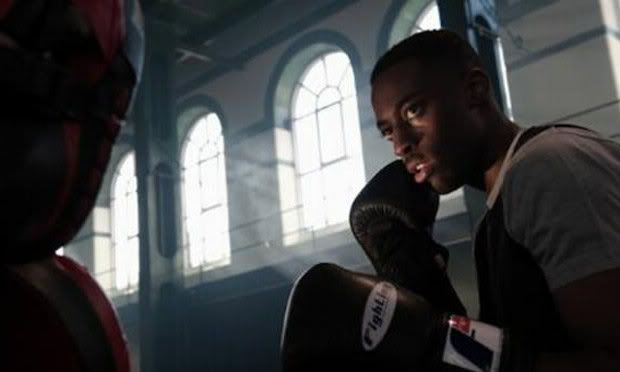 Clayton (Ashley Thomas) is struggling to come to terms with his violent upbringing, while trying to keep his family together and start a relationship with the equally as troubled Alexia (Michelle Ryan).
On the surface, The Man Inside sounds like a gritty urban crime thriller, and it is framed in such a way that it looks as though Clayton is going to come to terms with his past and channel his anger through boxing. Not so. Instead, Clayton makes his way through the movie swinging from violent fantasies to spying on the object of his affections. Ashley Thomas, Michelle Ryan, Peter Mullan and the rest of the cast stumble through the movie, hamming up every scene that they are in; everything is over done; there is even a scene where Clayton's mother rages against God in a church and begs him to answer her. I mean… Really?!
The story is clichéd and nothing that we haven't seen before, and is directed in a confusing and clunky manner. No character is properly fleshed out, which leaves the audience wondering why they should care about the people on screen. Dan Turner is not a first time director, but you could be forgiven for thinking he is; acting is over done, story is over done and the resolution at the end is entirely ridiculous. At one point Michelle Ryan appears to be going through withdrawal, and the audience is told that she has been for some time, even though she was dancing around a boxing ring and singing out of tune not moments before.
In all, The Man Inside is a clichéd, bloated and unoriginal story that is ham fistedly directed and overly dark. Avoid, avoid, avoid.
Rating: 1/5