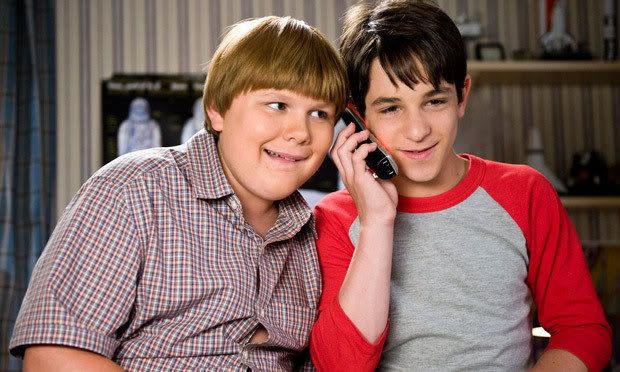 Summer break has rolled around, and Greg just wants to spend his holidays getting to grips with his video games. Sadly, Greg's parents have other ideas so Greg fakes a summer job to spend time with his crush, Holly. What could possibly go wrong?
Before I go any further, let me say this; I have not seen either of the two movies that come before Dog Days, and I have not read the books that the film series is based on. That said, I generally enjoy children's movies and books, but Diary of a Wimpy Kid: Dog Days is not one of them.
First of all, the kid at the centre of the story Greg played by Zachary Gordon is supposed to be the hero of the film, but he does so many questionable, thoughtless and downright mean things to those who are supposed to be his friends, that it is hard to root for him. Zachary Gordon is fine in the role, but he obviously has not been given a lot of scope as his character just comes off as impatient and selfish. Robert Capron, as Greg's 'best friend' Rowley is absolutely terrible. His actions are all obviously scripted and there seems to be no spontaneity in his performance at all. As for the character, Rowley is innocent and sweet, but he is also rather daft and when he finally does call his friend on the way he is being treated, he does it over the least offensive thing Greg has done. Peyton List as Holly Hills, the object of Greg's affection is rather sweet, but kind of stupid as well. Steve Zahn seems to have given up on his career and turns up as a beleaguered and demanding father. The only character that is not wholly unlikeable is Greg's older brother Rodrick (Devon Bostick). Rodrick is supposed to be obnoxious and unlikeable and that actually makes him kind of likeable. At least Bostick is doing a decent job with his character.
The story revolves around Greg's annoyance that he cannot stay in and play Batman: Arkham Asylum (or whatever) all summer. He goes to a country club with Rowley, finds his crush and lies to his family so he can spend all of his time at the club running up expensive bills on smoothies and – presumably – towels. As well as this, a dog steals a roast that the family still eats, Greg sneaks onto a laptop to call for help when he has a new cellphone in his room and he spends hours hanging out in a swimming pool because he has lost his swim shorts and is too proud to ask for help.
Diary of a Wimpy Kid: Dog Days is based on two of the books in the series, and these may be well written and fun, but the film is over the top, badly acted and centres around an unlikeable character. There are a couple of giggles in there, but they are few and far between. If the kids in your life are fans of the books, then they will probably appreciate the film, other than that I have no idea who would.
Rating: 1/5