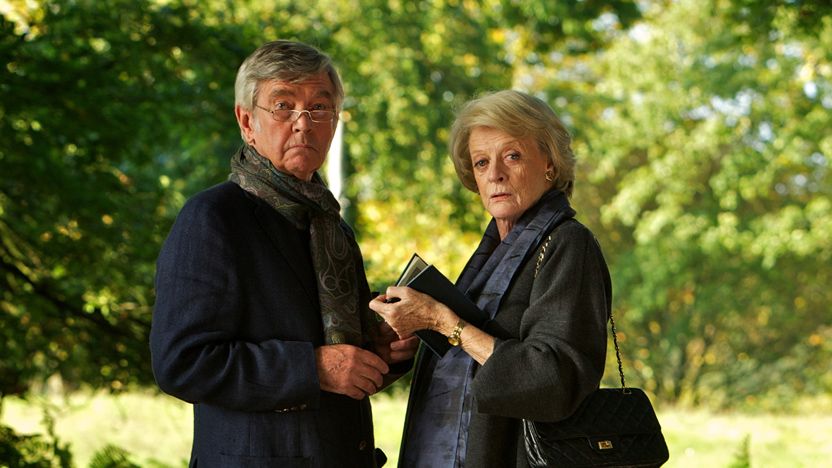 Beecham House is a home for retired musicians and, when the future of the home is put into jeopardy, the residents must band together to put on a Gala Concert to raise funds and save their home. When retired singer Jean (Maggie Smith) arrives, however, the future of the Gala Concert itself is thrown into chaos.
It is hard to believe that Dustin Hoffman has never directed a film before Quartet and, upon seeing the film, the audience may be left wondering why he chose this as his directorial debut.
The cast of Quartet is a veritable who's-who of English, Scottish and Irish actors. Michael Gambon, Billy Connolly, Pauline Collins, Maggie Smith and Tom Courtenay are the pillars of the film, and it is a good job that they are. Each of these wonderfully experienced actors bring something special to their role and, even though the script may feel a little thin at times, they make their characters as realistic and believable as they can. That said, many of the actors are playing characters that we have seen them play before. Maggie Smith is the grand dame whose star has faded, Pauline Collins is an ailing singer, Tom Courtenay is quiet and reserved, Billy Connolly is irreverent and witty and Michael Gambon plays his role as an angry and egotistical Dumbledore. Each of them do their job well, but they are not given a lot to play with.
The dynamic of the film is an interesting one, especially since we saw The Best Exotic Marigold Hotel be so well received by audiences last year. Maggie Smith, once again, is the cause of conflict in the film and, even though she is not as xenophobic as her character in The Best Exotic Marigold Hotel, there are definite similarities between the two. From here, the film treads familiar ground and even Pauline Collins's mental episodes are eerily reminiscent of Tom Wilkinson's journey in The Best Exotic Marigold Hotel.
Ronald Harwood, who also adapted the play for the screen, based the story on his stage play and this is where the issues may lie. The pacing of the film is so off that it feels a lot longer than it's 98 minute running time and many subplots are introduced then simply forgotten about, leaving the audience to wonder how these were ever resolved. As well as this, there are deep emotional issues brought into the story, but they are so easily resolved with a walk in the park or some brief but well-chosen words that any emotional impact they may have had falls flat.
Dustin Hoffman has directed a strange mixed film. It is not without it's moments of charm, and it is obvious that the four main actors formed a relationship on set that shines through on the screen, but it also seems as though Hoffman shied away from any of the tough choices that he should have made. This means that Quartet looks good, and has some genuinely talented performers, but whole sequences could have been removed and the actors may well have ended up directing themselves, such is the difference in their performances.
It's a shame, but Quartet is not the examination of relationships and shared history that it could have been. Instead, it feels as though none of the characters learn anything from their past and, since the story of their home being in jeopardy is so little addressed, there is very little actual drama to carry the story. This, coupled with underdeveloped characters means that Quartet is pretty, but bland and ultimately disappointing.
Rating: 2/5